Affiliate marketing is a great business to start in 2019. According to statistics, the current worth of affiliate marketing worldwide is around $12 billion. And experts state that this sector will keep growing.
If you want to start affiliate marketing on your blog, you should learn how to create worthy content. In this article, you will find tips on how to write high-quality blog posts and generate high revenue.
Put the quality first
Let's start at the very beginning and talk about quality. No matter what topics you discuss and what ideas you present, your content must be interesting, informative, and relevant.
You should clearly understand that the quality of content is more important than its quantity. So don't try to write as many articles as possible. Control the quality of every single post paying attention to every small detail.
1. Write from scratch
The first rule you should never ignore is to write every piece of content from scratch. Don't copy articles of your competitors. Don't try to rewrite the texts you have found online.
If you want to succeed in affiliate marketing, you should create 100% original content. The World Wide Web is overloaded with tons of articles that repeat the same ideas. And if you want to capture the users' attention, you should make your content to stand out.
Research the topic in-depth and present your own ideas. If your vision of the topic stands apart from the common opinion, it's not a bad thing. Vice-versa, you can take it to your advantage. You can incite controversy to attract more readers to your blog.
2. Structure your article
When writing an article, pay attention to the structure. Start your article with a comprehensive introduction. Present the topic and shortly explain its relevance to the audience.
When writing the body of your article, be consistent and present one idea at a time. Start from the discussion of the general topic, and then go into details. Use headings and subheadings to make your article scannable.
Finish your article with a compelling conclusion. Here you should restate main ideas, add a call-to-action, and invite readers to continue the conversation.
3. Use writing tools and services
Every content creator, whether he is a newbie or true professional, should use digital technologies to improve his writing skills. Here is a list of useful tools and services that help to create high-quality content for affiliate marketing.
4. Take proofreading seriously
Content for affiliate marketing must be perfect in term of grammar because people do not trust the content that is full of typos and spelling errors.
But the problem is that most content creators are not able to spot their own mistakes. And it happens not because they have poor proofreading skills. It's just the way our brain works.
For this reason, the best method to improve the quality of the texts is to use such online proofreading services like Grammarly, TrustMyPaper, and BestEssayEducation.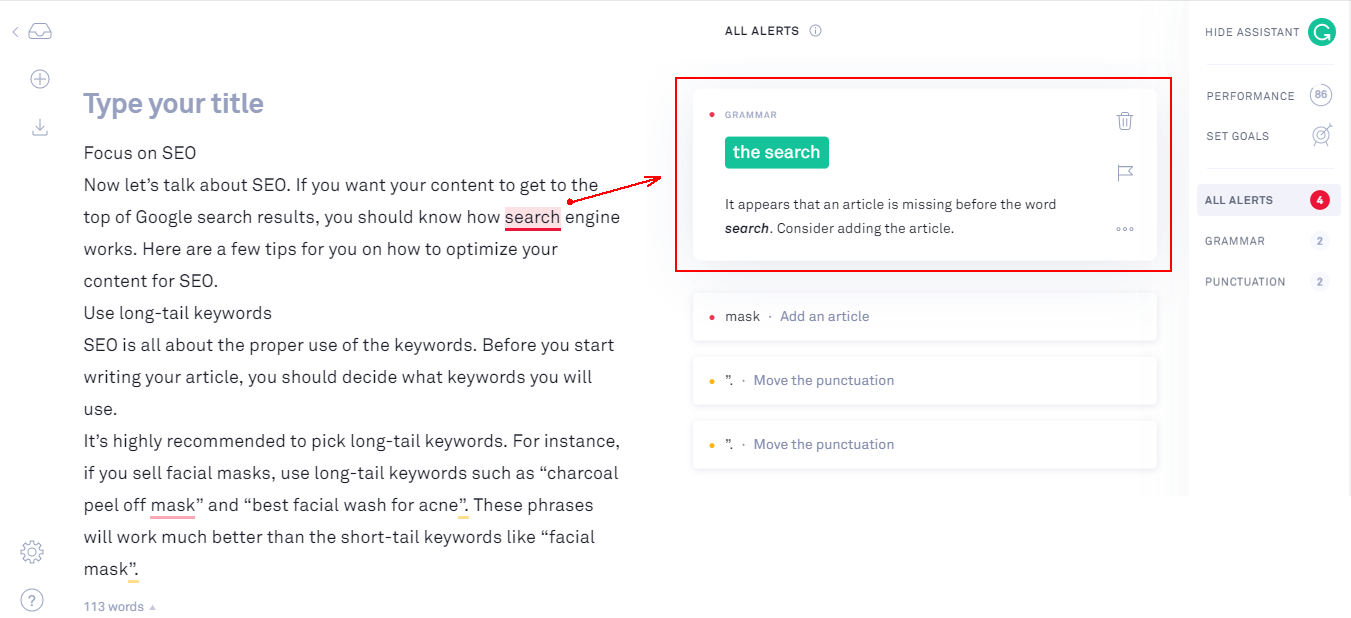 Focus on SEO
Now let's talk about SEO. If you want your content to get to the top of Google search results, you should know how the search engine works. Here are a few tips for you on how to optimize your content for SEO.
1. Use long-tail keywords
SEO is all about the proper use of the keywords. To achieve the best results, you should pick low competition keywords with high traffic. You can do keyword research for SEO with the help of Google Trends, Ubersuggest, or other similar tools.
If you want to boost your SEO efforts, pick long-tail keywords. For instance, if you sell facial masks, don't use the short-tail keyword "facial mask" as your focus keyword. Instead, choose long-tail keywords such as "charcoal peel off mask" and "best facial wash for acne".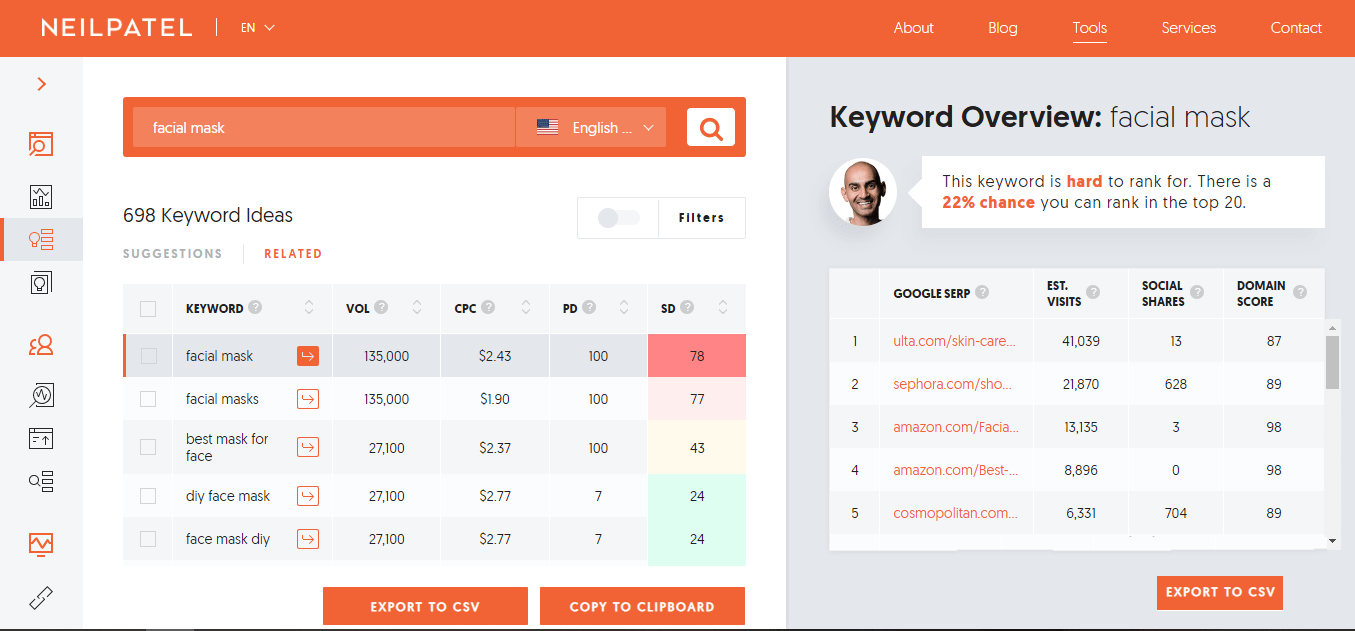 2. Choose the right anchors
If you want to make readers click the link, don't use standard anchors such as "click here" or "read more". To boost your efforts, use the keywords as anchor text.
It's also worth to be mentioned that you 'shouldn't use only one single anchor for all your articles. Google will notice that you are building links artificially, and will penalize your website.
Add links naturally, and then Google will trust your content.
3. Improve readability
When it comes to SEO, keywords are not the only thing that matter. Readability of the texts is also essential for high ranking. To create easy-to-read content, do the following:
Keep your paragraphs short. A paragraph should consist of one to three sentences.
Keep your sentences short. The optimal sentence length is around 15 words. If the sentence contains more than 20, the system defines it as "hard to read".
Use bulleted lists to make your text skimmable.
Consider shortening long phrases. For instance, substitute the wordy phrase "on a daily basis" with one word "daily".
Choose simpler alternatives. Substitute the word "utilize" with the word "use", etc.
Don't overuse adverbs and passive voice.
You can check the readability of your textual content with the help of tools like Hemingway Editor. It will help you to define your mistakes and improve your article.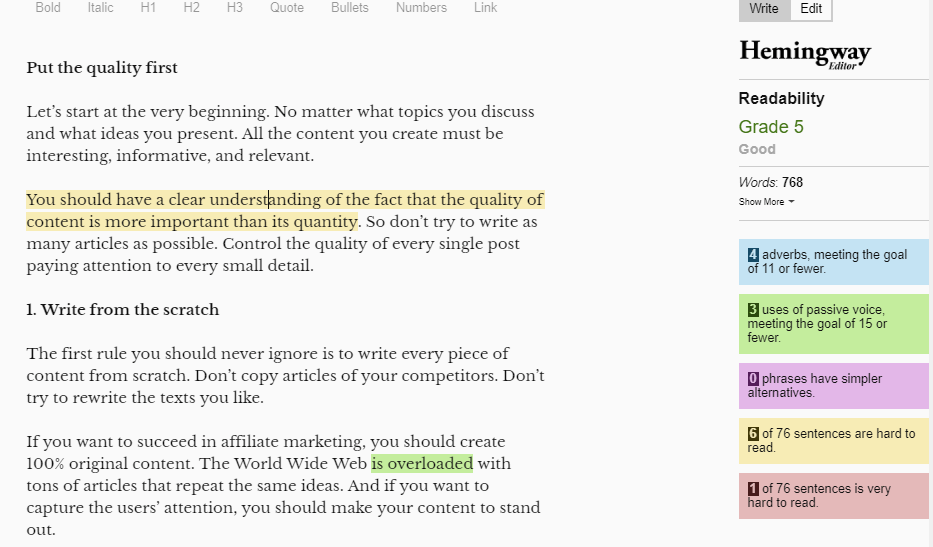 Engage your audience
To create remarkable content for affiliate marketing, you should take preferences of your target audience into account. You should ask yourself the following questions:
What information do my readers want to get?
What topics do they want me to discuss?
What background knowledge do my readers have?
1. Know your target audience
Before you start working on content creation, analyze your target audience. Firstly, you should define the demographics:
Age
Location
Gender
Marital or family status
Occupation
Income level
Education level
Secondly, you should examine the online behavior of your audience. Find out what blog and sites they visit the most often, and at what time of the day do they usually surf the web.
The more you will learn about your audience, the better the content strategy you will build. In-depth research will help you to start thinking like a reader. It means that you will be able to create more engaging content. 
You will know what writing style to choose: formal or informal. Also, you will know what tone of voice it's better to set: entertaining, educational, witty, humorous, etc.
2. Incorporate your affiliate products into stories naturally
What is the primary goal of affiliate marketing content? The goal is to invisibly lead readers to the idea that they need to buy the affiliate products.
That means that you shouldn't promote affiliate products directly. You should incorporate them into stories naturally. It will help you to manipulate the buying decisions of your readers and increase your revenue.
Avoid using statements similar to this one: "This item is the best one you can find. Click here to buy it right now!" Do not force your readers to purchase the products they don't need. It will significantly lower your chances to build a successful affiliate marketing business.
Remember that your task is to provide your readers with valuable content and push them toward the right buying decision. Make people believe that they choose and buy products on their own will, and then you will achieve great results in the long-run.
3. Include examples to support your ideas
When you discuss a sophisticated topic, you should provide illustrative examples. It will help you to explain your ideas to your audience fast and easily.
Imagine that you are a teacher and that your readers are 5th-grade students. You should use understandable examples to explain how specific technology works or how to choose the right product. The simpler words you use, the better.
4. Add visuals to convey your message
As an old saying goes, "a picture is worth a thousand words". It means that sometimes it's better to add some visuals than to write a few additional paragraphs.
You can use photos, vector images, animated GIFs, videos, memes, and infographics – anything that is relevant to the topic you discuss.
Visual content allows grabbing the readers' attention and making them stay at your page for longer. It helps to reduce the bounce rate and increase chances to get your website to the top of Google search results.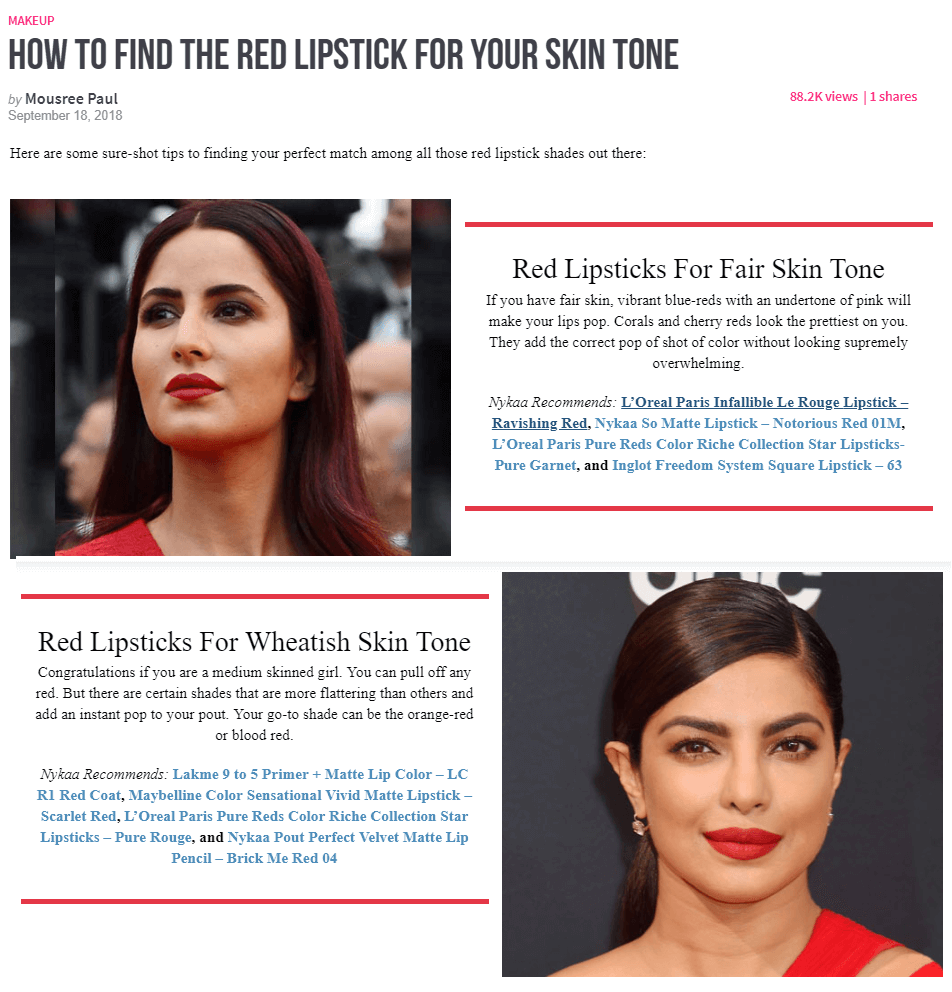 5. Be honest
When you create content for affiliate marketing, you should be honest with your readers. This is the only way to build trust with your audience and achieve real success in affiliate marketing in the long-run.
If you are disappointed with the product that you have tested, do not recommend it to your readers. Write a critical review and clearly explain what you liked and didn't like about using this product. And let readers make a final decision on whether this product is worth buying.
In fact, people do not trust blogs and websites that contain good reviews only. So if you publish a few negative or neutral product reviews, it will not hurt you. Vice-verse, it will make people believe that your blog provides trustworthy content.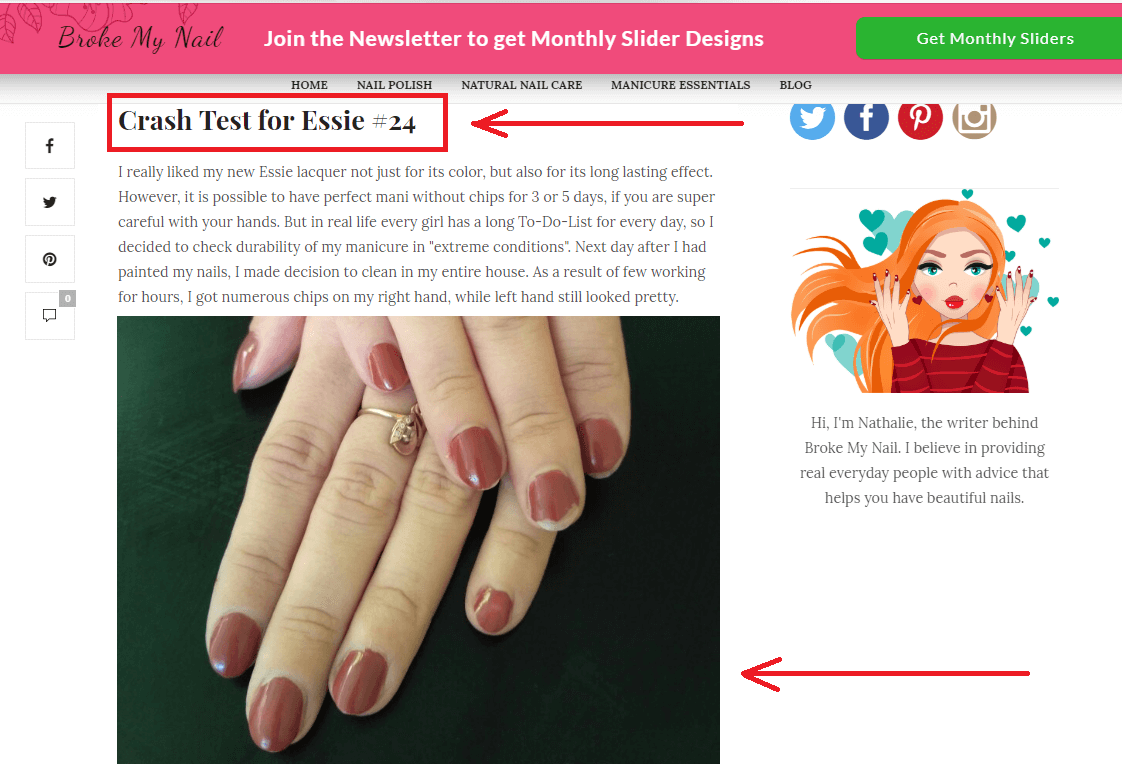 6. Interact with your audience
Invite your readers to share to comment, and don't be afraid of being criticized. Both positive and negative feedback are equally important for the development of your affiliate marketing business. You should learn from your mistakes as well as your successes.
So you should encourage users to express their opinions about the products you promote and the articles you write. In this way, you will get an idea on how to improve your content and take your content marketing strategy to the next level.
Wrapping it up
You have just learned the basics on how to create high-quality, SEO-optimized, engaging content for affiliate marketing. Now don't hesitate to take action and apply the tips given. Put your efforts into building a remarkable content strategy, and then nothing will hold you back from achieving your business goals.