Tell us who Fiona is?
An avid student of St. Bridget's Convent who completed studies there till O/L's and then shifted to another school down Thalakotuwa Gardens called the Asian International School (AIS) for A/L's.
Tenure at AIS lasted short as a decision to drop out from school struck me and my best friend's minds, as we thought it was a waste of time. However, I completed my A/L's due to lack of choices. Meanwhile whilst being a school dropout, I began my post-graduate education by enrolling in CIM UK simply with the Math A/L's pass. So, just a year before my teenage ended, I had completed A/L's, first semester of CIM and a full- time job in my hat. This was not fun at that time but the goal I aimed at was a Masters Graduation hat by the age of 23, which was successfully achieved through University of Buckinghamshire. Since academics were done and on hold for the time, I dedicated my time completely for hard work.
Fiona is a person who began the communication career about a decade ago. Ever since the entrance to the communication arena, opportunities arose for me to work with global FMCG, Manufacturing, Healthcare and Telecommunications industries.
Instances to hit the quit button from the corporate jungle were fistful. However, gladness is not putting that thought into action as my experiences have led me to publish Bully & Co. which is the first self-help book on workplace harassment in Sri Lanka, where my strengths from a career of corporate communications got the book to the front-page news.
Explain your role as Head of Corporate Communications at Bharti Airtel?
As the head of corporate communications, Strategizing and initiation of internal and external communications are the main branches under my umbrella. The internal communications role works closely with our group based in India and the HR department to engage employees through transparent and timely communications.
The external communications collaborate with all functions to enhance the corporate image through public relations, corporate advertising, social media and strategic partnerships.
How did you start your career?
Receptionist was the initial designation I carried during my study years, however it only lasted for few months as I was offered an opportunity to work at Grant Public Relations. My post-graduate lecturer communicated to me about this offer which directly arrived from the CEO of Grants who was in the independent panel of judges when I presented a market research as a partial fulfilment of the postgraduate. (By that time Grants was one of the first Public Relations agencies in the country).
Ever since the notion of been a PR girl who was loyal to her media friends and helping companies to strategize their communications was vivid.
Explain how you develop your skills at ITN and Grants Public Relations (GPR)?
My foundation was Grants. It enabled me to absorb everything from an agency's perspective at GPR. Developing media contacts, media management, writing, publishing, managing press conferences and events were one of the few skills that I learnt. Most importantly teamwork was encouraged and learnt, hence going to work was like going to meet our friends. However, since I was in the early career stage I had to make the call to leave the place.
ITN was a gemming opportunity as the private media entity that hired me was acquired by ITN. My entrance was marked when ITN was at it's one of the peaks bagging number 1 position in the country. My boss at ITN was exemplary who guided us through the process and we absorbed every knowledge my boss had about TV. During my time at ITN, the learning expanded into platforms such as media operation & back-end work done to present good content to Sri Lankan viewers. The perception I had of a typical government organization changed, as I learnt a right sense of leadership is able to change productivity killing processes thus converting the entire culture towards efficiency.
Heavy amount of researches are conducted to maintain the sense of interest in TV & for advertisement attractions. Participation for press conferences as a journalist enabled me to gain a vivid picture of both relevant parties.
Tell us how Lanka Hospitals Corporation PLC and LafargeHolcim further shaped your career?
Lanka Hospital became the initial corporate entity in which I manage public relations. Learning expanded to the healthcare industry, hospital operations and sensitive ways of communicating. Customer research data compiled for quality purposes handed over to me by my CEO led my MBA thesis towards hospitality industry. At Lanka Hospitals, I managed Sri Lanka's first event comprised of over 450 consultants (medical specialist) and the complete media coverage in Maldives for Male launch.
LafargeHolcim is a French and Swiss-based multinational giant that's spread across 120 countries. The manufacturing industry was challenging, specially managing internal communications with cross-functional experts. However, the international best practices were a true value addition to my career. The opportunity doors that opened to work with communities, local authorities and diverse stakeholders enabled me to develop many new projects as a communications manager. Global level press conferences I organized while at LafargeHolcim expanded my network of communicators.
I still reach out to them and it's really great to have such a great pool of knowledge at the tip of your fingertips.
What leadership qualities do you need to move up in the corporate ladder as a strong female?
Knowledge – always be educated
Attitude – even if you have the entire skill set but have the wrong attitude, it might create a blockage for growth
Adherence – to keep going because you cannot completely predict your external environment
Tell us more about your book Bully & Co. ?
Narration of the book itself was a thought-provoking journey. Challenge was being an author that brings forth a multi-faceted message across. The idea generation for the narration of Bully & Co. began 2 years ago with my friend's insistence who believed I possessed great stories related to the topic. However, stories alone were insufficient in meeting Bully & Co.'s purpose as it was narrated to help targets of harassment to overcome such situations than simply be a written piece of disclosure. Thus, led to the birth of a packed toolbox of strategies to assist victims that got bullied. Learnings gained during the book narration were mind awing, for instance, I learnt that serious social impacts such as suicidal rates are on the upsurge due to workplace stress.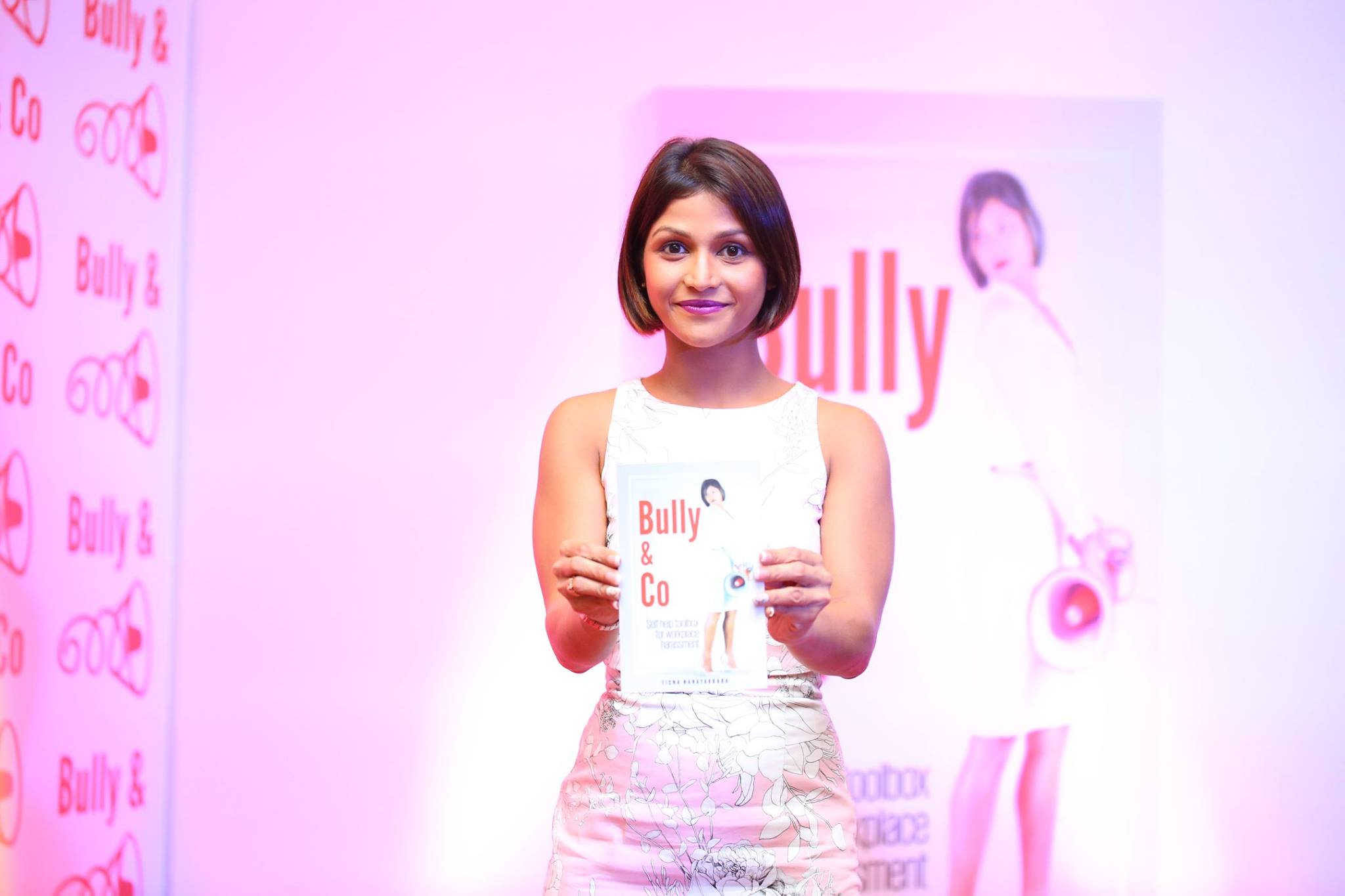 Continuous escalation of infuriation on the subject pushed me towards to warrior against procrastination & launch Bully & Co. If a book is a garden, the writings are the flowers in it, while the gardener must have a wider understanding from flowers to grass patches to visitors so does an author should be. After writing, I had to layout, translate, be a model, design the cover, promote, distribute, hold a press conference and deliver the keynote speech as a confident keynote speaker. As a communications specialist, I had the advantage of working with the local media for the past decade, which helped me get Bully & Co popular.
What is your next move if we are not inquisitive?
Currently, I visit corporates and conduct sessions to create more awareness on the subject matter. Thus, creating and enabling a common platform to be developed for the victims to support each other. More value additions to the working community are one of my greatest aspirations. Meanwhile, I am available to lend an ear and help 🙂
How do you view modern businesswomen who enter your field?
Initial learning of any businesswoman is the identification of her strengths and areas for improvement. Each women's style of working and management is independent and authentic. Proper identification of ones uniqueness in style and directing it towards productivity molds a modern businesswoman. Individuals in my field carry outgoing personalities and easily build conversations with others mainly because we are avid readers and listeners. All the stories we listen to become the learning materials in our career.
Final advice to young generation who are really interested in public relations and communications?
Listening is a prominent skill on the verge of being forgotten in this field. All our focus is on publishing, advertisement and sponsorships than on the listening part. Personally, the major reason that drives my passion towards corporate communications is due to the world of knowledge carried along with our network. Bill Nye once said, "Everyone you will ever meet knows something you don't". Willingness to acquire new knowledge & contentment to present it to another in an understandable sense will make you a good corporate communicator.