Could you imagine your life without music? Especially when you have a smartphone. How to make a Spotify-like app and How much does it cost to build an app like Spotify top the list of the frequently asked questions.
Music streaming business is on the rise as the users don't want to download music files on their smartphones. But vinyls and collections of records is another story.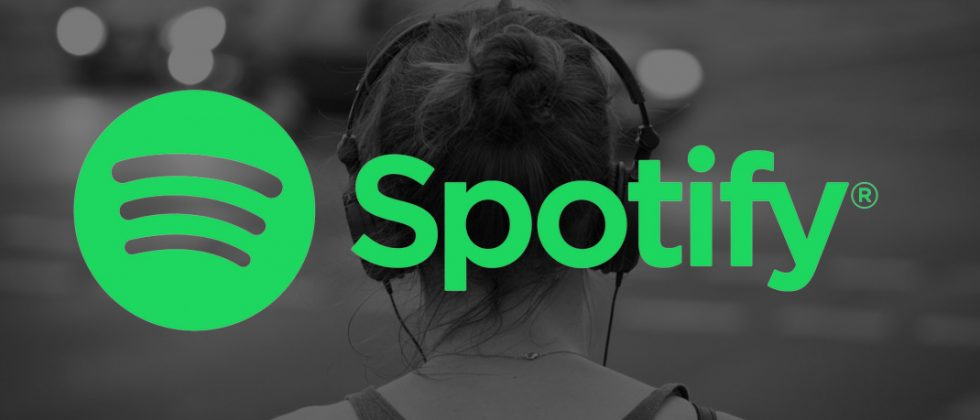 Spotify has achieved unbelievable success. From a small startup in 2008, it grew to 100 million monthly subscribers in 2017. Spotify has become a second-to-none music streaming app.
Nowadays listening to music equals to Spotify, iTunes, or Google music. According to Statista, Spotify is a number-one app when it comes to music streaming.
Today we're going to speak about Spotify, the greatest music streaming app of the century. You can read more on how much it costs to build a Spotify-like app. Let's delve into what stands behind the unprecedented success of the app.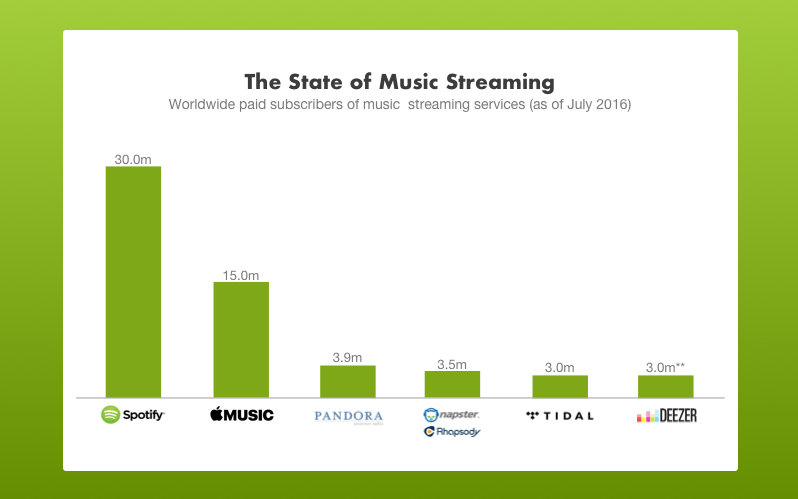 What is Spotify?
As you know, Spotify is a music streaming app working in more than 60 countries. The app works on all devices offering a library with more than 30 million songs. Moreover, Spotify allows sharing a playlist in social media.
There is no need in downloading and storing songs on a hard drive to access them. The users find a song or an album and play it online anywhere and anytime.
To use basic Spotify features for free, a user should register first. Using a free app version, there are a couple of drawbacks such as in-app ads, ability to listen to music only online. Paid subscriptions open up a wider functionality for the users like downloading, no advertisements, hi-fi sound.
We have found out the answers to the most of the frequently asked questions:
How much does Spotify cost?
There are two versions of the app: free and premium. Spotify Premium charges $10 / month.
How to download music in Spotify?
This feature is available only in Spotify Premium. To download the song, slide the available offline button to the right.
How to listen to the music in offline mode?
Here is a quick algorithm how to listen to Spotify when there is no Internet connection. Sync a playlist to a device, press Done, and enjoy listening to Spotify online.
How to set up a playlist?
Just go to the library, then choose a playlist, and press Create a new playlist. You can name it, add or delete tracks at any moment.
How to share a playlist?
A social media sharing makes Spotify stand out from the crowd. To share a playlist with friends, choose a song or a playlist, tap 3 dots and share it on Facebook, Twitter, and Tumblr.
Let's move on and discuss what features Spotify has and what makes up a music streaming app.
Spotify features
Spotify doesn't satisfy completely all the current-day market needs. In lots of countries, Spotify services are still unavailable. As a result, business opportunities for music streaming apps or websites are unlimited.
Core features of Spotify
Authorization
This option is valuable for both users and app owners. The users can sort music, create playlists, and adjusts settings. And you can, as an app entrepreneur, analyze the data and find out the users' preferences.
Make the first step of the user interaction easy-to-use, effortless, and intuitive.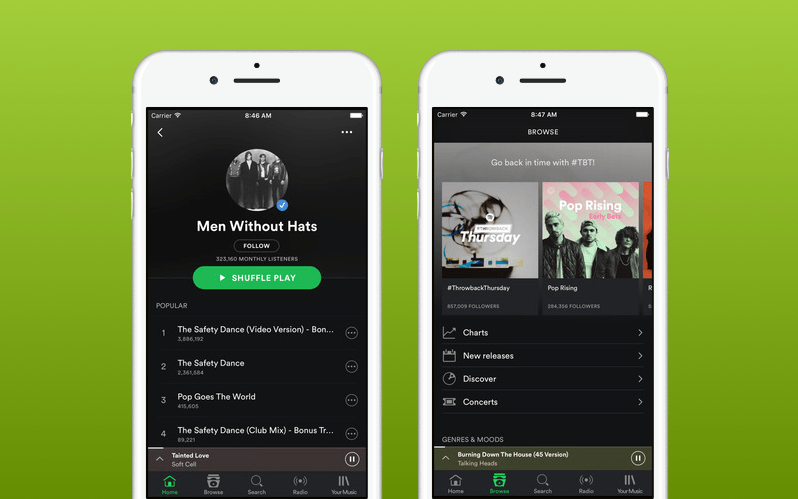 It's a great idea to provide the users with the possibility to log into with the existing social media accounts opting for a faster registration process. to implement the registration via social media, the developers may use an open source protocol like OAuth. This will enable the registration without reaching social media account credentials.
Music streaming
Streaming differs from a simple data download. Developing of such features is more complicated and time-consuming. Music streaming lies in the foundation of Spotify. That is what you need to care about when creating a music app.
Don't forget about the quality and speed of the streamed audio. The following factors influence the streaming:
Type of a file
Transmission protocol
Method of encoding
Streaming system
Music arrangement
Making a music app, consider the adjustment settings. Another major issue is music searching by genre, style, artist, and mood. Shuffling and repeating mode may be beneficial. Don't forget that the users tend to save playlists to listen to them later.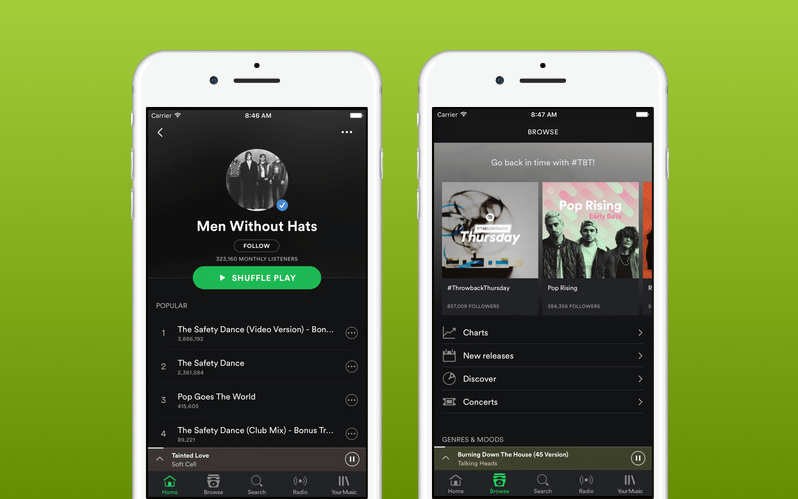 Social sharing
Spotify is more than just an app for music listening. It poses a great many of extra features that can help bring people of the same interests together. Taking into account Spotify's experience, making a music app more social is worth the candle.
Consider adding the following features:
Sharing a song or a playlist with friends
Following favourite artists
The most frequently played tracks
Social features are beneficial not only for the users but also for app entrepreneurs. Thanks to them, you can share information about your app and attract more new users.
Offline mode
The possibility to play music anytime and anywhere regardless of the Internet connection can be a considerable advantage of your app. Some people travel to work by subway, and there isn't a stable Internet connection. Thus, implementing an offline mode can bring you more customers even if they will have to buy this extra option as Spotify Premium.
You need to get access to the device cache and save the tracks there to set an offline playing mode.
In-app purchases
To create a profitable app, you need to develop a range of extra paid options. For example, in a free mode, the functionality of Spotify is limited to playing tracks and shuffling them. All other features like no ads, unlimited skips, offline listening are available at some additional charge.
The users can buy extra features via in-app purchase system without leaving the app. Like any other features, there are a great many of ways to implement depending on the mobile platforms.
Conclusions
Here you get a list of core features for a music streaming app with Spotify as the best example. Of course, Spotify isn't the only competitor in the field of music apps.
Follow its success story, and develop a great music streaming app!