A great entrepreneur understands the importance of having a good team of individuals around. This will be one of the main factors contributing to the success of a company. If you want your business to develop and expand, you cannot expect to do the work all by yourself, and you will have to rely on your employees as well.
Evidently, managing a team of individuals can be a difficult task, among many other things you have to do. However, the happier your employees are, the more productive and efficient they will be, supporting your success and your company's. Your employees need more than a nice boss to feel good and productive, and that starts with their work environment.
In this article, we will advise you on how to create a productive and efficient work atmosphere for your team.
Hire Great Team Members
The main thing that will make or break a work environment is the relationship individuals have with each other. This is a significant factor to look into when you are hiring new members to be part of the team. Make sure that you hire people who are professional and have a great sense of team spirit. This will ensure that everyone can help each other in times of need, resulting in a strong team as well as a strong business.
Let Toxic Employees Go
You cannot always meet someone properly after one interview. No matter how good you are at reading people, this is a controlled environment where interviewees know they are under pressure, and every little thing about them is being assessed. Therefore, they will only try to show the positives about themselves. It is important to maintain oversight over your team and listen to the employees' concerns. If you notice someone is making the environment difficult and toxic or slacking when it comes to work, you must let them go.
Make Your Team Feel Safe
A great variable to consider is how safe your employees feel when at work. This not only means safe from accidents at work but also emotionally safe by knowing that they will not just lose their job out of nowhere or that they need to worry in case they get sick and not being able to pay for their medical fees. The benefits a job provides is one of the main reasons for individuals to stay at their job. Ensuring individuals have the appropriate employee benefits in place is crucial when you are managing a team. This will show them that you care about their overall wellbeing and future, and also make them feel more relaxed and less worried. Minimizing stress levels in the work environment is a great way to make it more productive and efficient.
Make The Office Comfortable
Your employees will most likely spend large amounts of their day in the office. Just like we enjoy feeling comfortable in our homes, we crave an attractive and comfortable space at work. You must create an environment that will allow individuals to be productive and efficient. You can start by having adequate furniture that supports the needs of your employees. That includes appropriate chairs and desks that will not cause back pain after long hours of sitting down. Make sure the office is clean by hiring a cleaner to come in at the end of every day and make sure the office is spotless. Moreover, make sure that you provide employees with additional facilities such as a kitchen and a place to eat other than their desks so that they can take a proper break.
To get all this in one place office rental is the best choice. Being already ready to use with all necessary amenities, shared office spaces meet your need of having a preventative and collaborative workplace with minimal costs. The rising popularity makes it possible to find a variety of office spaces in Dallas, Texas, Huston, Jacksonville, Fl, or other cities, adjusted to the business environment needs of the area. The flexible office concept enables interpersonal connections between coworkers and allows them to feel more motivated and productive.
If you are unsure of what to change in the office, directly ask your team and listen to their suggestions.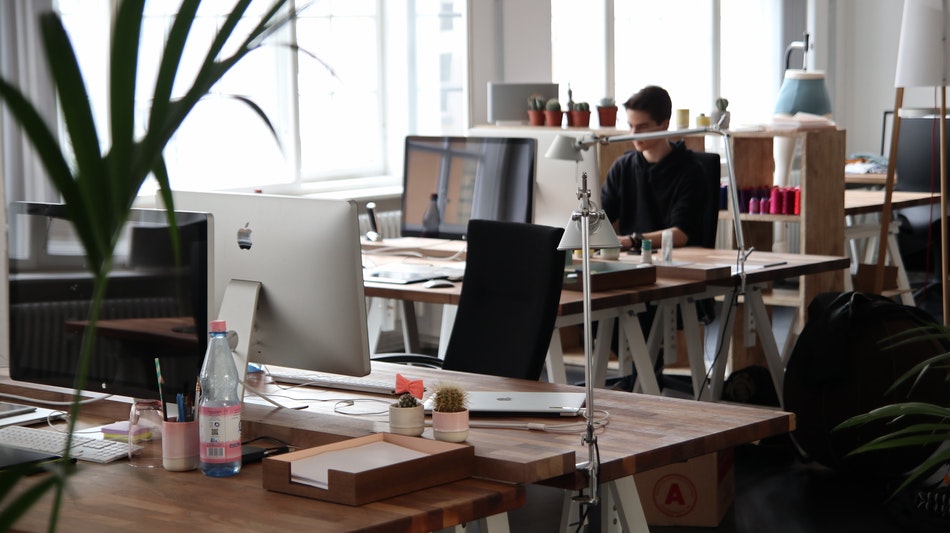 Improve The Lighting
This is a very simple thing to achieve, and it makes a massive difference when it comes to the work atmosphere. You may recognize the headaches that come from being in a room with fluorescent lighting for a stretched amount of hours. If employees have headaches caused by the light, they will be less focused, productive, and efficient. Empirical studies have demonstrated that natural light is associated with improved mood, increased energy, and better mental health. It is, therefore, important that you have many windows in the office that allow natural light to shine through. If this is not possible, you can invest in blue-enriched light bulbs and other warmer tones, rather than very bright and fluorescent lighting.
Making sure your employees are happy within the workplace is essential for you to grow as a company. Make sure that you follow some of the tips above to ensure that you are creating a productive and efficient work atmosphere for your team, which will only increase your chances of success.