Cometdocs is an online document management system that offers a wide range of free conversions and handy features for complete document manipulation without difficulty. If you haven't heard of it, it's high time to check it out and to bookmark it.
Apart from its principal functionalities, it's important to mention that Cometdocs puts the users' needs in the first place and that's the reason why this company constantly improves its services and provide innovative solutions that bring document manipulation to another level.
Therefore, it's not surprising that Cometdocs has transferred its powerful technology into a mobile word, allowing its users to work with their documents even on mobile devices. That's very significant given that nowadays mobile technology and smartphones have taken primacy on the market and have more and more users.
So, we won't beat around the bush since you were probably intrigued by the title and you are impatient to discover what's the new update from Cometdocs.
One of the Cometdocs precious gems is PDF to Word Converter app, the most downloaded and high rated app. Given that this productivity app has become an essential tool for document management on the go,  it was time to significant update and make it even better and more practical.
With the PDF to Word app's 4th birthday around the corner, we have decided to showcase a brief review of major features and updates made recently.
Version 3.1
In the version 3.1 there were some good old benefits, but also some new features:
The latest OCR technology on the market.
High-rate recognition and conversion quality.
It's possible to convert PDFs from Gmail attachments, Google Drive, Dropbox, OneDrive, and Box within the app (in-app purchase).
Version 4.1
In the previous version, there are some big changes:
Now it's possible to convert PDF files from Gmail and cloud services for free.
New option: rename your converted documents.
Conversions are improved once again so that scanned and complex documents can be converted smoothly and flawlessly.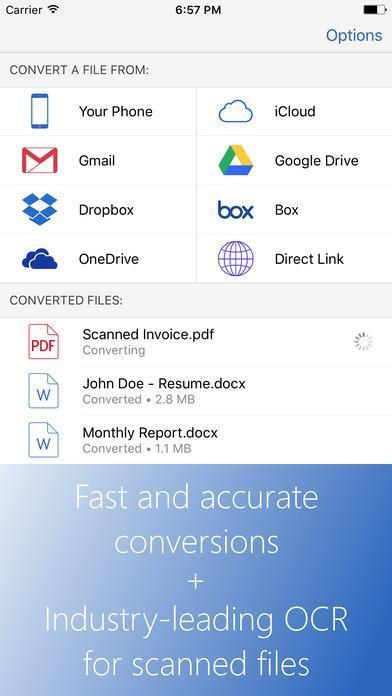 Version 4.8
The latest version of the new and improved app has brought some of the most significant changes in the app's functionality:
New scanner feature that allows you to scan documents or convert images of documents
Rotation of documents
Filters for scanned documents
Support for iPhone X
Complete user interface overhaul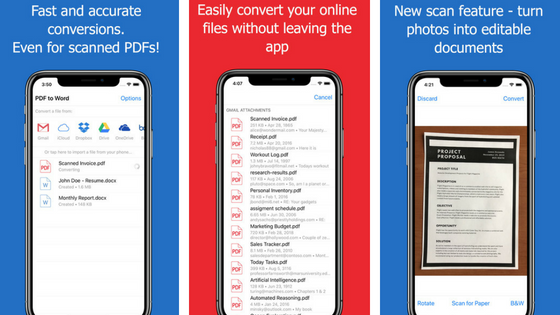 There are some more surprises, so make sure to download PDF to Word Converter and check it out carefully.
That would be all for now from Cometdocs. However, keep an eye on it because who knows what will be the next update and what will be the next big news that will help you work faster and smarter with your documents?