The Chinese New Year is the biggest festival in the country. It's the dawn to the Year of the Rat, celebrations were planned ahead but the cities in China were almost as if it were deserted. Street markets shut down and locals waiting in distress hoping the best for the next day, and for their lives.
Especially in the city of Wuhan, where the plague took its first and the greatest toll, public transportation and markets are declared shut down due to the super spreader and deadly Coronavirus.
Coronaviruses (CoV) are a large family of viruses that cause illness ranging from the common cold to more severe diseases such as Middle East Respiratory Syndrome (MERS-CoV) and Severe Acute Respiratory Syndrome (SARS-CoV). A novel coronavirus (nCoV) is a new strain that has not been previously identified in humans.
Why is it called a Super-Spreader?
A Super-spreader is a virus that has the capability of spreading with ease through any possible method. A Coronavirus patient in Wuhan city was able to infect 14 healthcare workers, hence why this virus is called a Super-Spreader. They are also called Super-Shedder as it transmits through infected droplets by Coughing and sneezing. The number of shedders multiplies. Michael Osterholm, an epidemiologist and professor at the University Of Minnesota School Of Public Health says if there's going to be one Super-Shedder, there's definitely going to be more.
A Wet Market or a Laboratory?
The new Coronavirus is likely to have emerged from the Huanan Seafood Market in Wuhan, the first infected victim was a regular customer at the market, a man in his fifties. Although many scientists believe that the virus outbreak was a human error at a laboratory whatsoever, it's very likely that the virus made its first debut from the Market.
The Wet Market concept in China and a few other East Asian countries are the main reasons for epidemic outbreaks such as Coronaviruses. It is also believed that an animal reservoir or a wet market in Guangdong was the birthplace of the SARS virus outbreak back in 2003. All these viruses including the Middle Eastern MERS virus transmit to Human through mammals. They are simply carriers and would not be affected by the virus in any major way. But once it jumps into a human system, the virus starts growing and spreading.
In wet markets, live animals and uncooked meat are kept close in approximate through narrow pathways. The probability of any type of disease from a live animal jumping onto a human or slaughtered meat is very high. Many researchers believe that this virus was initially carried by Bats (as of all other viruses like Ebola)
This respiratory virus has been preying on many with weak immune systems or other health issues.
The Good News
Amidst hearing all the sorrow and despair, there still is hope as scientists are tirelessly looking for a vaccine. The good news is that, there are cases of recovery. If your immune system is strong and you receive proper healthcare and rest, there's a high chance that you'll recover. The Coronavirus is very much like a common cold, just that it can be fatal. So let's minimize the fear and take precautions.
The situation in Sri Lanka
Sri Lanka has taken all measures to make sure the outbreak doesn't make its way to the little island. Temperature screenings have been set up at airports and it's advised not to roam around highly dense public places such as malls without a mask.
The first Wuhan Coronavirus patient in Sri Lanka was tested positive on the 27th January 2020 while she was preparing for departure after a tour in the island. The woman in her 40s' is admitted at the IDH hospital, secluded from further spreading.
Basic Symptoms
Here are the basic symptoms of the Wuhan Coronavirus
Runny nose.
Headache.
Cough.
Sore throat.
Fever.
Shortness of Breath.
Many of these symptoms showcase characteristics of a common cold, yet on a higher scale. If you know anyone who's been exposed in any kind of way and experiencing common cold-like symptoms, advise them to visit a doctor immediately.
Precaution Measures
As Sri Lankans, we are not quite used to facing an epidemic outbreak. But due to this virus's rapid spreading, it's advised to always take precautions whenever possible. Listed few were brought to notice by the World Health Organization (WHO) and etc.
If you choose to wear a single-use face mask, wear it as advised and discard properly.

The coloured side must be worn out.
The mask should cover the nose, mouth and chin.
Avoid touching the mask when it's worn.

Avoid Crowded places and mass gatherings.
Avoid close contact with sick animals and consuming raw and undercooked meat items.
Avoid hanging out with sick people.
Go to a doctor if you're feeling even slightly ill.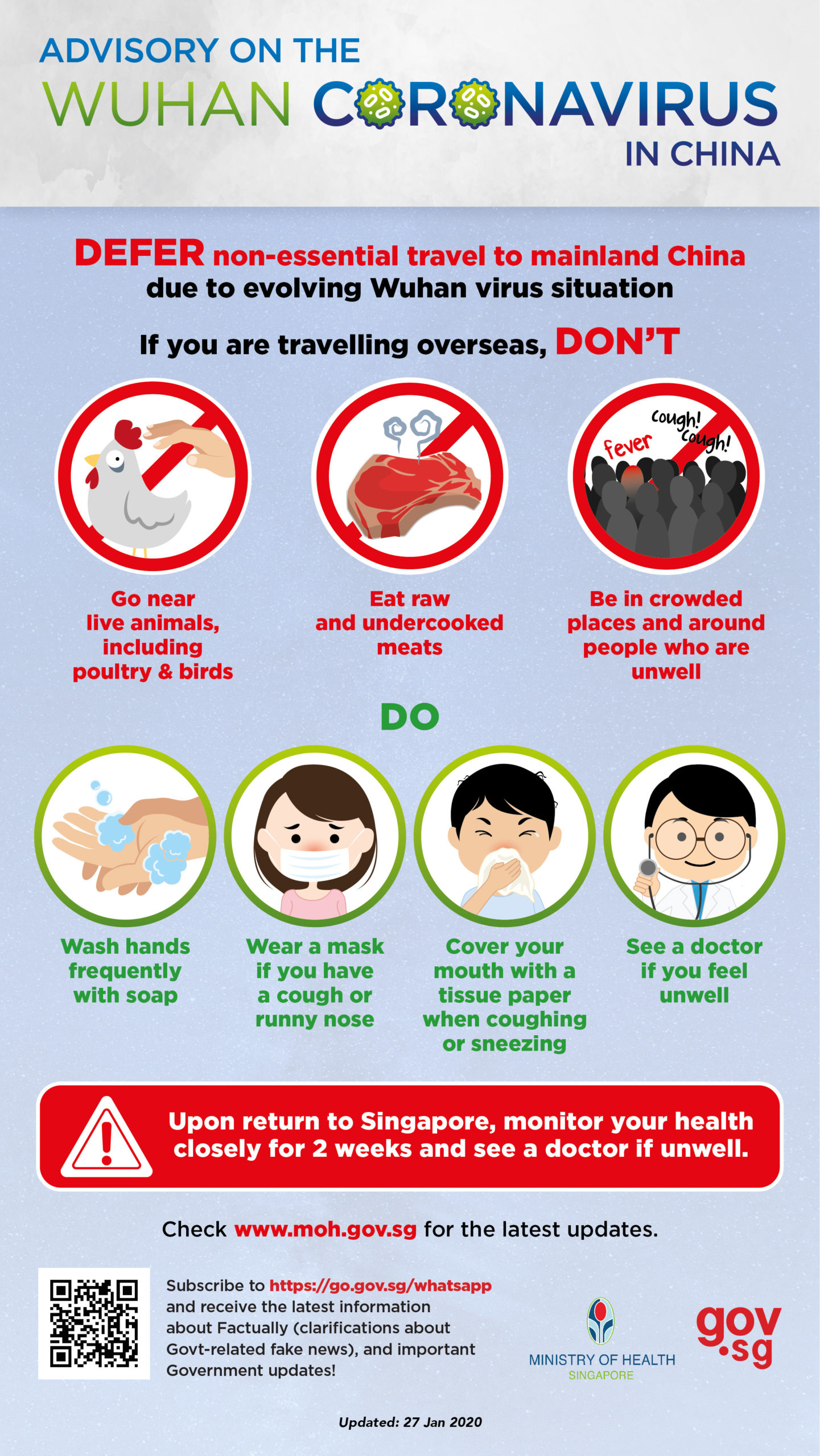 Personal hygiene practices
Wash your hands often for at least 20 seconds with soap.
Avoid touching mouth, nose and eyes.
Wear a mask when travelling to the airport, on Public transport or during unavoidable events.
When coughing and sneezing, cover your mouth with a tissue or a flexed elbow and immediately wash your hands.
Wear a mask if you're even having a common cold.
If there are children or elderly members in your home, make sure to clean up yourself before associating closely.
Remain vigilant at all times and don't deny the possibility.
The virus could prey on anyone and anytime, so the best hygiene practice is to be alert and prepared. It may sound rude, but if at all you come across a sick person or someone who's been to Wuhan lately, maintain your distance. The Coronavirus spreads rapidly and may even remain in the carrier's body for over 10 days before actually showing symptoms.
In some cases, virus carriers don't even show symptoms yet they are a valid source of spreading the Coronavirus. So take precautions and stay safe!