Are you stressed out at work? Are you demotivated at work? Are you looking for a job or jobless or fed-up of thriving your career? Are you willing to start a new venture or business and take the risk? Are you reading for a degree or willing to take up a degree in future? Are you clear with your vision and dreams? Have you identified "who you are?" Have you identified your "real potential?"
Here is a great chance for you to identify who you are, what your capabilities are, to identify your strengths, weaknesses, potential and current level of motivation and the level of motivation needed for you to thrive your career. IGNITE is a special program conducted by the prestigious institute National Institute of Business Management (NIBM) with the primary objective of "Revealing YOU". It is a physiological motivational program that will help you to identify the 4th person in you through physical and mental therapy. Physiological motivation has enabled people in understanding his/her real potential, strengths and weaknesses in thriving success, in the career as well as life. All you need is the right level of motivation and self-confidence that will guide towards your goals and achievements.
Why is physiological motivation important?
Physiological motivation is the motivation within you that direct you to achieve needs in your life. Physiological motivation is a crucial factor in the success achieving process that will keep on motivating you continuously despite employment is the many challenges and issues you face every day in your journey to success. Physiological motivation will enable you to understand you actual potential and will also enable you to understand what your actual interests are. At present we see many people stopping half way achieving their goals and targets at the point they understand that they are doing something they do not enjoy doing. Self-satisfaction and enjoyment are what enables you to reveal the giant residing within you.
Do not be too late to identify your full capacity and potential. Register now for IGNITE that will give answers to all of your problems, questions and failures.
NIBM the leader in tertiary education, with over 48 years of excellence has specifically identified the need for physiological motivation for a real change in life, attitudes and career. NIBM being in the deal with professionals, students and corporate personalities have identified the importance of physiological motivation in the context of Sri Lanka. IGNITE will coach you to stay positive, awaken your giant and most of all, it will help you to get rid of lethargy, anxiety, stress and addictions that are restricting the achievement of your goals. IGNITE will reveal who you are and will help you to exert your full potential in your future work that will also help you to achieve your dreams. With IGNITE, your dreams are no more dreams!​ The program is designed inclusive of various activities that will improve the physiological aspects and mentality motivating you in life. The program includes a briefing on winner's elements, energizing exercises, three selves of human, a personal SWOT, meditation, change and much more which are also supported by motivational videos, success stories.
Why should I attend IGNITE?
| | |
| --- | --- |
| To realize my dreams To differentiate me from the others To brand me and succeed in the career and life To reveal who I am For a stress-less life To identify my strengths and empower them | To identify my weaknesses and take necessary actions To build self-confidence To understand the factors that motivate me To understand the qualities of a successful leader To better plan my life and career To enhance my potential and capabilities |
Whom should attend IGNITE?
| | |
| --- | --- |
| Students Sales Personnel Team leaders Supervisors Executives Managers | Entrepreneurs Employees Risk takers Innovators Anyone willing to discover the Giant within you. |
Why waste time and energy in your valuable life and career? Register today for IGNITE. IGNITE will be held on the 3rd of April at the NIBM and contact 011 2685 806 or 011 532 1000 for more information. Keep the date free to get to the heights of your career enhancing your potential with the Guidance and coaching of Mr. Hashan Haputhanthri and Dr. Himendra Balalle.
​
The tickets are priced at LKR 4,500.00 inclusive of refreshments and the program will surely be of benefit to you compared to the value of money forgone. Hurry up and register to explore your potential and achieve success realizing your dreams.
Register Online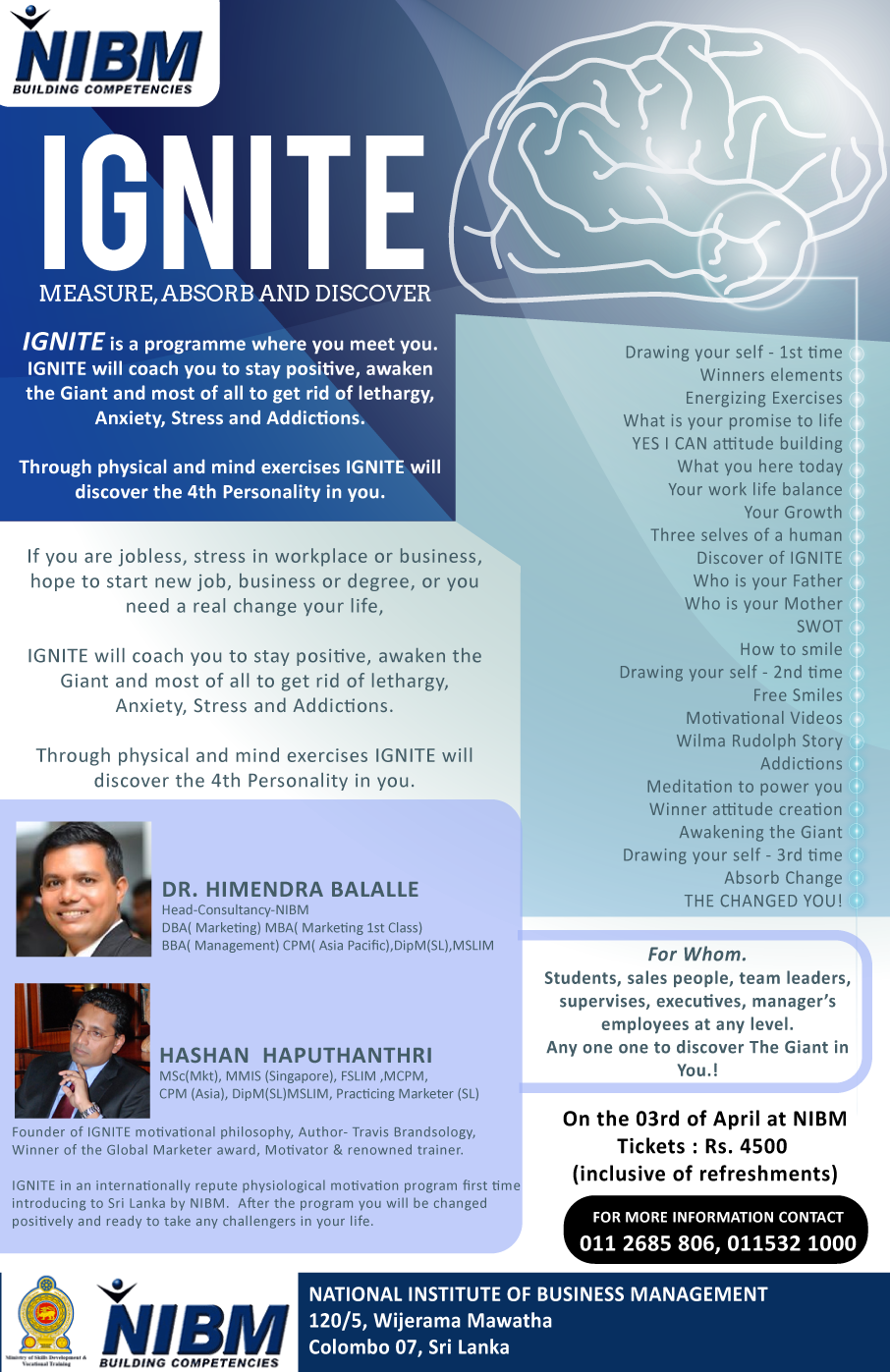 Your Dreams are no more dreams with IGNITE conducted by NIBM
​