You have finally decided to renovate your bathroom and you're feeling excited. You have so many plans, but don't rush it. A quality and affordable bathroom renovation mean having some things in mind before the work starts. Good preparation is 50% of the job already done, which will include things like ensuring you have a waste disposal solution organised through a site similar to skiphire.com. So, here's what you need to know:
1. Bathroom Planner
First of all, it's necessary to have a talk with all the members of your family who will be using the bathroom. Have a discussion on the necessary repairs and improvements and identify how much you are ready to spend on the renovation. Always add a bit more to the budget because you never know what unexpected surprises can arise.
This will also help you stick with the plan throughout the whole process. The renovation can last between 30 and 90 days and it's important for you not to differ from your original plan because you will end up spending more. Of course, the only time you can change the plan is due to financial problems that may occur in the meantime. Finally, you can always ask for professional advice regarding the cost of certain items and improvements.
2. Lighting
Lighting is important in the bathroom – it sets the mood and makes the room look bigger; it's not just there so that you can see what you're doing. Recessed light fixtures are a good option if you install them on the ceiling. If you want, you can add one or two more in the shower. A dimmer switch is useful when you want to set the mood in the bathroom. For applying make-up or shaving, bright light fixtures in front of you or slightly above are a must.
3. Bathroom Floor Plans
The first rule on saving money during bathroom renovation is to try to keep the new plumbing fixtures close to the existing plumbing system in the bathroom. Of course, if the renovation leads to the discovery of broken or outdated wiring or plumbing, then it will probably be necessary to get new parts. If your budget isn't big but you still want to add more space to the bathroom, you can get a pedestal sink which makes the room look bigger. Clear glass shower is also better than the heavy shower curtains because glass doesn't block the light and make the room dark and stuffy. Adding a big mirror could also visually enlarge the bathroom. There are more things you can do to enlarge the bathroom, but it's better to ask professionals for advice, like those in Impecca Build, who know decoration and renovation tricks.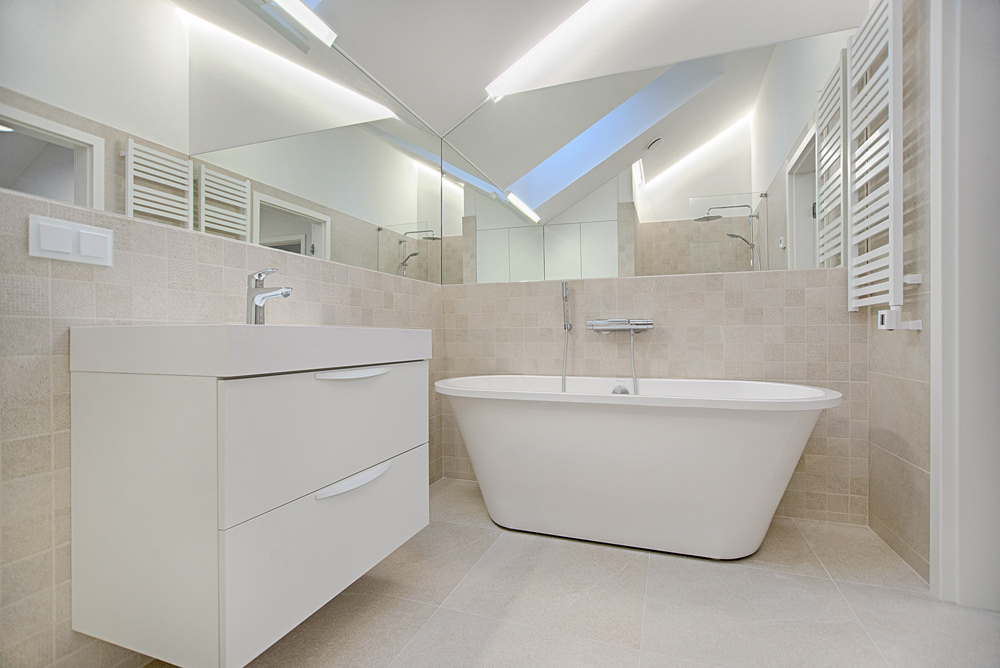 4. Wall-Hung Toilets
They are very popular these days because they have finally become affordable. They will take up less space than the regular one as the tank is hidden in the wall. Just be sure you will stick to this type of toilet. If you ever change your mind and want to go back to the floor-mounted toilet, you will have to pay for additional work because these two types of toilets don't drain in the same way.
5. Bathroom Ventilation
This aspect is often neglected, and it shouldn't be. Proper ventilation is very important as it can lead to issues like the occurrence of mould and mildew. In time, it could damage the floor and the walls. Getting a quality fan is the first step, as you will have good indoor air quality. If you have a steam shower or low ceiling in the bathroom, don't place the fan inside the shower. The steam will get in the way and the air won't circulate effectively. The best type of fan timer is the one that comes with a one-hour setting.
6. Adding the Tub
Maybe you have a tub or thinking of having one just because you think you should. However, if you know that you take a few baths during a year, then you should opt for a shower as a more economical solution. There are many luxurious showers so you won't even miss the bath. Still, if you have enough space and money and you enjoy having a bath, then go for the more logical choice.
Final Comment
Bathroom renovation can take up a lot of time. However, if you know exactly what you want, it doesn't have to cause you any headaches. You will only enjoy the results once the works are over.