Transport Design students from the Asia Pacific University of Technology & Innovation (APU)'s School of Engineering walked away as the Champion and 3rd Place winner at Gemilang Coachwork's Bus Design Competition 2019.
The competition was organized by Gemilang Coachwork (GML) in conjunction with their 30th Anniversary, to encourage more talents to be involved in the design of buses which forms an integral part of our daily lives in Malaysia and around the world.
Gemilang Coachwork currently has a clientele from more than 10 markets worldwide, including Singapore, Australia, Hong Kong, China, India, Malaysia and more.
The theme of the competition was "City Bus". Participants were required to produce a conceptual bus design. Judging criteria include both the interior and exterior aspects of the design, as well as the functionality, practicality and the safety of the design.
Students were given 6 months to prepare for the research reports, sketches and final presentation sessions in which they put their design skills and practical knowledge into use.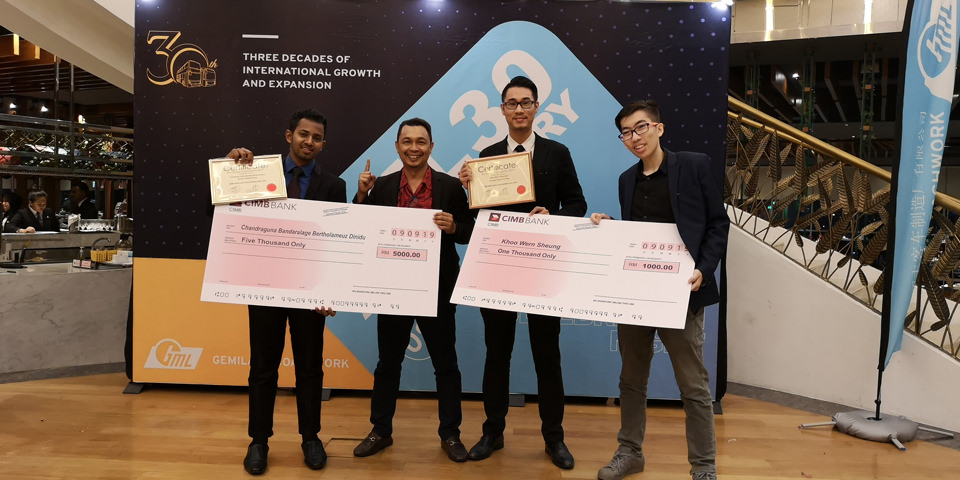 Year 2 APU student of the BA (Hons) in Transport Design programme, Chandraguna Bandaralage Bertholameuz Dinidu Thejana Perera walked away as the Champion of the competition with his semi-electric concept bus design, which considered the aspects of sustainability while implementing the aspects of outstanding interior and exterior design.
Two final year students of APU's BA (Hons) in Transport Design programme, Khoo Wern Sheong and Timothy Chow Tian Le walked away as 2nd Runner Up winners by instilling more practicality in conventional bus designs. They proposed the chameleon concept, which embeds digital advertising panels on the body of a bus.
Prizes were given at GML's 30th Anniversary Dinner. Prior to the occasion, both teams were brought on a tour around GML's factory, enabling them to learn about the processes of bus manufacturing and production.
"Becoming a transport designer has been my passion, and it is my beautiful obsession. I feel delighted to achieve this award, after all the determination and sacrifice made. I believe nothing is impossible, hence I wish to achieve greater heights in my future," expressed Perera, as he celebrated his success with his mentors at GML's 30th Anniversary Celebration Dinner.Both teams were mentored by Saifullizan Abdul Wahab and Christine Lim Pei Shin from the School of Media, Arts & Design. Proud of the teams' success, Lim said "Creativity is inventing, experimenting, growing, taking risks, breaking the rules, making mistakes and having fun! Congratulations to our winning teams who had successfully went through the process of being creative!"